Redirecting to the new site and the updated program

This is an out of date version of the page. It will be redirected to the new site.
If this page does not take you to the WhatBots site within a few seconds, please click here.
During September/October 2009 there will redirection for a while but eventually the URL will again be www.whatbots.com


Look under "What topics?" on the menu bar on the new site to see what Question Sets are available.


The program on the new site has been updated and is easier to install than the old one.

**************************************************************
ISTQB Foundation Certificate Terminology

(Please read the general notes about working with the WhatBot program before reading the specific notes about this Question Set.)


Read the instructions on how to set up a Question Set and then download this Question Set. You will usually see a choice to Open the file or save it to disc. Choose Save (to disc), not Open

This Question Set is for you if you are studying for the ISTQB/ISEB Foundation Certificate in Software Testing. The Syllabus makes use of about 150 special terms which are defined in ISTQB's "Standard glossary of terms used in Software Testing". You will need to know these terms and this Question Set will help you to learn them.

This is to supplement the course, self-study or other training which you will need to gain the certificate. Obviously, you need far more for this certificate than just knowing the terms.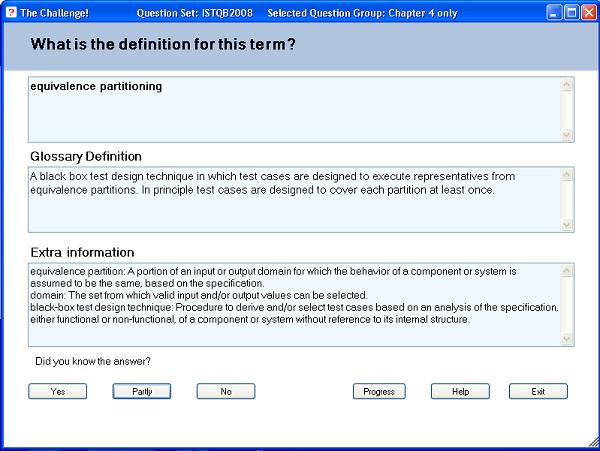 You can have a free licence, valid until September 2008. It's ZD2W-6MTK-2LKQ-Y2Q0
Please provide some feedback on your experience of installing or using the program, using the messageboard.

You can get a free licence lasting longer from the messageboard/forum. To get the licence, go to the message board and read the entry under "News and Announcements".

You can read the message board and get the shorter licence without registering for the forums.


COPYRIGHT AND ACKNOWLEDGEMENTS.
The definitions are taken from "Standard glossary of terms used in Software Testing, Version 2.0 (dd. December, 2nd 2007) Produced by the 'Glossary Working Party' International Software Testing Qualifications Board". Their copyright is gratefully acknowledged.

The selection of terms from the Glossary is based on those identified for use in the "Certified Tester Foundation Level Syllabus", Version 2007, of the International Software Testing Qualifications Board.

The authors and the ISTQB are acknowledged as the source and copyright owners of the Syllabus.

Copyright © 2007 the authors for the update 2007 (Thomas Müller (chair), Dorothy Graham, Debra Friedenberg and Erik van Veendendal)
Copyright © 2005, the authors (Thomas Müller (chair), Rex Black, Sigrid Eldh, Dorothy Graham, Klaus Olsen, Maaret Pyhäjärvi, Geoff Thompson and Erik van Veendendal).

Any use of the copyright material contained in this Question Set must be in accordance with the conditions of the copyright owners. Please see the ISTQB website at www.istqb.org for more information.

This web site has no connection with ISEB, ISTQB or BCS and is not endorsed by them. We are only able to use the ISEB/ISTQB material because of the generous terms of their copyright.





Home page